We get calls every day from prospective clients asking for an estimate or a bid.
Unfortunately, people often underestimate how complicated a construction project can be:
Your project can have a ton of different moving parts.
Different trade professionals needed at different times
Dependencies on suppliers, permits
& Many other sometimes unforeseen complications.
But the biggest problem many of our clients face is: 
They don't have a clear idea on what they want.
Because many clients are unclear about their project, their biggest fear is being taken advantage of.
It's been our experience that most people will often think if they share their budget with us, we'll raise our original prices to match their budget.
This couldn't be further from the truth.
In fact, most of the time their numbers are much lower than what it really takes to build the project.
Next thing we know, we're the "bearer of bad news" giving off a quote higher than expected…
When in reality, we're just telling you the TRUTH.
Luckily we've found a way to prevent this level of uncertainty between our team and our clients.
Proper Planning Requires EXPERIENCE & SKILL!
At EAC, we DON'T build projects from estimates.
It's very easy for someone to give you an estimate. Especially if it's in line with what you wish the project actually costs.
Not only is this a waste of time… you're taking on a HUGE risk.
When we give you a price to build your project, this price is our promise to you that we are taking on the risk.
Our team has the experience and confidence in our process and our abilities to plan and execute throughout the construction process.
Follow Our Simple Process
To ensure you have an incredible customer experience, we've created a smooth and seamless project process.
Here's how our process goes.
STEP 1
Design Phase
Design is not just a drawing, or a concept. When done correctly this involves what, who, where, when, and how, as well as "how much?"
STEP 2
Project Development
Depending on the type of project we are discussing, there are various ranges that work for beginning the project development phase.
Some questions you may want to ask yourself regarding your project include:
Will there be a permit required? 
Do we need an Engineer?
Does the client already have a survey of their property? 
How many specialty trades will be involved?
Is architecture necessary, or will a simple schematic drawing suffice? 
Having a process to follow that is used every time, helps to navigate all of this risk and uncertainty.
Our Price Discovery Model & Agreement
Design and engineering costs usually start at around 8% of the total price for the job.
Multiple revisions, whether called for by the client or the city can drive the costs up, as well as creating other problems with scheduling, delaying portions of the project, and adding fixed overhead costs.
That's why we use the price discovery model adopted by design build type companies.
Our discovery agreement is made when we have first established what our target is for the cost of the project. We need to align with our clients and make sure that our expectations are in line with each other.
This way we can avoid services we can't provide, while ensuring we always do an excellent job for you.
The price discovery model also helps you come up with a starting price for your project.
This allows us to help establish and reiterate the most affordable quote for you. This naturally depends on whether or not you choose any additions or remodeling options.
Once your price is established and agreed upon, the process of developing the construction agreement begins.
We Will ALWAYS Have Your Best Interests In Mind (Even If It's Not In Ours)
Our job is to give you an honest estimate. Regardless if we're a great fit or not.
We strongly encourage you to shop for other quotes and estimates to compare with ours.
If we're not a great fit, we have no problem referring you to another company to best suit your needs.
We make it a point to remain authentic and honest with our clients. Our ethics and quality of work means more to us than a quick sale.
That's why we will ALWAYS have your best interest in mind. Even if it's not in ours. Because your trust means more to us than your money.
Check Out Our Most Recent Home Remodeling Projects: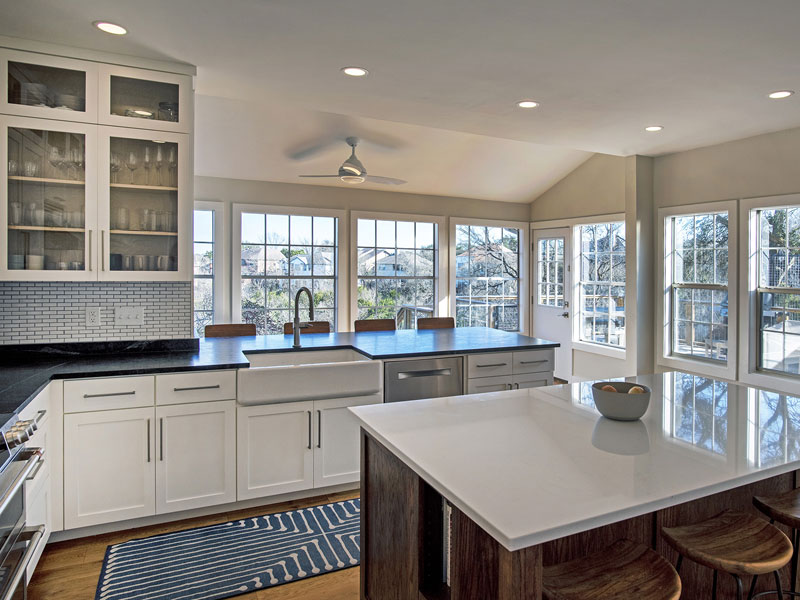 This Client was an architect which made the design process a bit easier than is…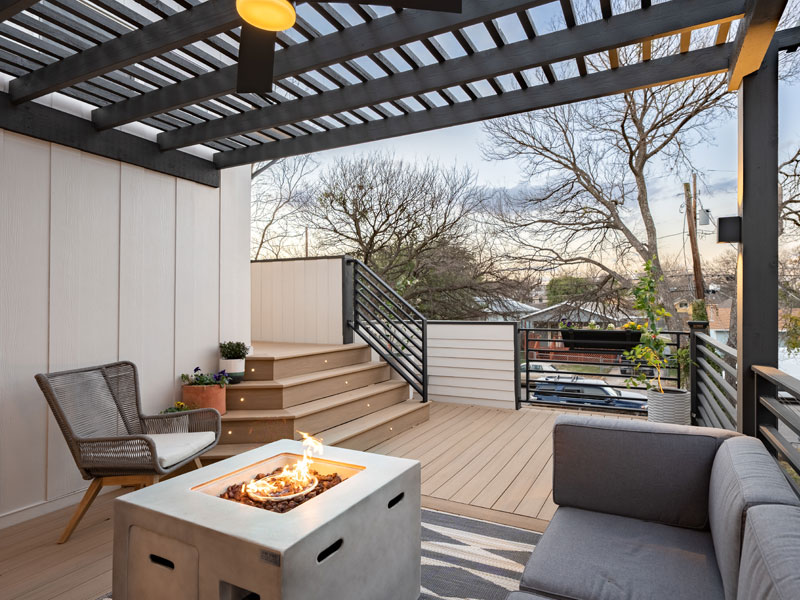 This Project was really a completion or refinement of what we feel was the original…
Carlos had a two story deck That was falling apart after 30 years. It was…
Proficient and quick!

I had a wall removed and East Austin Carpenters installed supports for the area. Chris is quite knowledgeable and explains the work very clearly to laymen (like me). I will hire them again when the need arises!
Great work!

Chris was able to fit me in the day after I called him and the job was done the following day. He was very quick and professional. I was really impressed with him, and his work.
You guys are amazing!

Thanks for all you guys did to make our front door look awesome. Had no idea what I wanted or expected from you guys but you definitely delivered. Quality is top notch and it was very obvious that you guys love what you do.
Incredible kitchen shelves

East Austin Carpenters worked on shelving solution for our kitchen. Their team suggested the perfect wood type and cut to match our current decor. They even treated the metal support to give it a "vintage patina" look. Chris was fast, reliable and easy to work with. I would recommend him for any job and hopefully plan to use him again in the future.
Painless!

It was a trustworthy crew – they were efficient, provided delivery, and adhered to sound installation practices. Happy to report my doors are now nice and level, sealed and sliding.
Quality Work!

Chris and his team made quick work of fixing our dry-rotted garage door frame. They installed flashing to ensure we wouldn't find ourselves with the same issue later on and left their work area cleaner than they found it. Highly recommend!
Massive Deck Renewal

We are thrilled with our new decks. They were in terrible disrepair and Chris was incredible; creative in finding ways to renovate and improve them while not wasting wood that was perfectly good. Our decks are extensive, over 800 sq ft, and multi levels. We love them and appreciate his attention to detail, timeliness and great pricing. We have recommended East Austin Carpenters to several friends and they, too, have been impressed with their work.
Transformed my Living room

East Austin Carpenters remodeled my patio wall to install a 4 panel slider. It's great! I have a ton of natural light coming in now. Their service is the best and they stuck to our contract price even through tough times.
Good work by good people

Work was done well for a reasonable price.